'Cheney Stand Down Order' #1 on Google Trends
Infowars.com
February 15, 2011
Great job again to our listeners for driving "Cheney Stand Down Order" to the top of Google's Trends this Tuesday, February 15, 2011.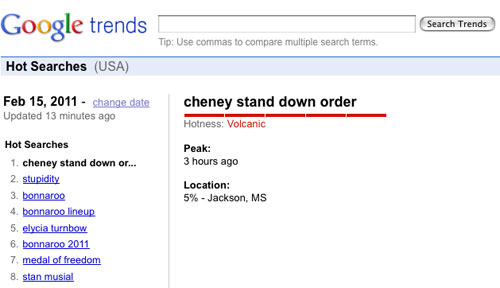 From Aaron Dykes' article "WeAreChange Confronts Dick Cheney on 9/11 Standdown Order":
The testimony of Norman Mineta before the 9/11 Commission leaves compelling questions about former Vice President Dick Cheney's actions on the day of 9/11. Then Transportation Secretary Mineta witnessed Cheney refuse to contradict an apparent standdown order as an aide warned of something incoming at the Pentagon. Cheney has given conflicting reports about what time he entered the PEOC bunker. Mineta later confirmed his suppressed 9/11 Commission testimony and refuted Cheney's account of arriving later.

During the CPAC conference, WeAreChange.org confronted Cheney about these questions, which he refused to address.

"Hey Mr. Cheney, what did you do in the underground bunker on 9/11? Dick Cheney we know what you did on 9/11 with the standdown order. Norman Mineta testified against you on the 9/11 Commission report. What happened on 9/11?"
Here's the We Are Change confrontation that brought Dick Cheney's actions on 9/11 to the forefront once again:
Luke Rudkowski and James Lane of We Are Change confront Dick Cheney in Wahsington D.C. at CPAC 2/10/2011.

WeAreChangeOklahoma – Newt Gingrich and Dick Cheney (CPAC 2011)
[MEDIA NOTE: WITHOUT MUSIC]